In the last five years, state funding for the University of California system has been cut by nearly $900 million dollars. While the state used to cover 78% of the cost of a UC student's education — now it covers just 39%. Last year, for the first time ever, students and their families shouldered a bigger share of the cost of their public education than the state. And with that shift comes growing questions about the value of a college education – and an even greater recognition of what private giving can mean for a student's future.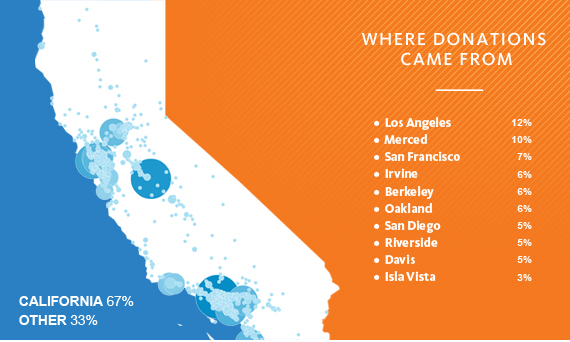 Inspirational Stories
Steve Wozniak
(UC Berkeley) co-founded Apple
Steve Wozniak co-founded Apple with Steve Jobs in 1976. He designed the Apple I and Apple II computers before leaving the company in the 1980s. He remains a beloved and well-known figure — even among those born more than a decade after the Apple I started shipping.
Tracy Caldwell Dyson
(UC Davis) astronaut
Tracy Caldwell Dyson is a chemist and NASA astronaut who has been a Mission Specialist on the Space Shuttle Endeavour and a crew member on the International Space Station. She has completed three spacewalks and logged more than 22 hours of "extra vehicular activity".
J.H. Everett
(UC Irvine) children's book author & illustrator
While pursuing his doctorate in history at UC Irvine, J.H. Everett turned to art to relieve the stress of academic life. After training with Disney watercolorist Roger Armstrong and Hanna-Barbera designer Bob Singer, his college hobby transformed into his career. Today, he is a celebrated children's book author and illustrator who often weaves history lessons into his storytelling.
Mike Morhaime
(UCLA) created World of Warcraft
Mike Morhaime is president and co-founder of Blizzard Entertainment, a video game developer most recognized for the phenomenon World of Warcraft. He is also a skilled poker player, reaching the last round of the Celebrity Poker Tournament in 2006.
Paul Doherty
(UC Merced) park ranger
Paul Doherty was the first Yosemite park ranger to receive a PhD at UC Merced. He now works as a public safety technology specialist for Esri, where he and his team created a layered map that showed up-to-the-minute details of the Yosemite Rim Fire.
Nakul Dev Mahajan
(UC Riverside) is "Hollywood's Favorite Bollywood Choreographer"
Nakul is an award-winning choreographer and dancer. His choreography has been featured on NBC, FOX, ABC, TLC and MTV and he has worked with a plethora of celebrities including Natalie Portman, Stevel Carrel and David Schwimmer, to name a few. Nakul was invited to choreograph for the Nobel Peace Prize in 2010. He currently is a choreographer on the hit FOX television show "So You Think You Can Dance."
Matthew Spitzer
(UCSF) past president of Doctors Without Borders
After joining Doctors Without Borders in 1999, Matthew Spitzer established primary care services in southwestern China. Following assignments in Sierra Leone and Cambodia, he was elected to the DWB Board of Directors in 2006 and elected president in 2008.
Kelly Kovacic
(UCSD) teacher
Kelly Kovacic's impressive career in education includes a ten-year tenure at The Preuss School UCSD, a public charter school serving low-income students who will be the first college graduates in their families. She was the 2010 California Teacher of the Year and was one of two teachers appointed by the California State Board of Education to the Advisory Commission on Charter Schools.
Dana Priest
(UCSC) The Washington Post reporter
Dana Priest has spent nearly 20 years as an investigative journalist at The Washington Post. She has won journalism's highest honor twice, taking home the Pulitzer Prize in 2006 for her work exposing the government's secret 'black site' prisons and in 2008 for her exposé of the mistreatment of wounded veterans at Walter Reed Hospital.
Yulan Wang
(UCSB) Founder of InTouch Health
Yulan Wang began his career by inventing AESOP, the first FDA-cleared surgical robot. Inc. Magazine and Deloitte have recognized his firm, InTouch Health, as one of the fastest-growing healthcare and technology companies. Today, he serves on UCSB's Electrical and Computer Engineering Advisory Board and the Mechanical Engineering Advisory Board.